Commercial Flooring Solution Providers in Winnipeg Manitoba

Joe @ BMD Materials
Are you a builder, contractor, or architect in Winnipeg, Manitoba, searching for the perfect flooring solution to elevate your commercial space? Look no further than BMD Materials, your local experts in commercial flooring solutions. With a commitment to quality, product consulting services, and value engineering, we are your trusted partner in creating the ideal flooring solution for your project while staying within your budget.
Why Choose BMD Materials for Your Commercial Flooring Needs?
At BMD Materials, we understand that every commercial project is unique and requires tailored flooring solutions. With our years of experience and expertise, we offer a range of services that set us apart from the competition:
1. Product Consulting Services
Choosing the right flooring material for your commercial project can be overwhelming with the myriad of options available. Our team of experienced professionals is here to guide you through the selection process. We take the time to understand your project's specific requirements, from design aesthetics to functionality and maintenance needs. With our in-depth knowledge of commercial flooring products, we can recommend the ideal materials that will not only meet but exceed your expectations.
2. Value Engineering
We understand the importance of staying within budget without compromising on quality. Our value engineering approach ensures that you get the best value for your investment. We carefully evaluate different flooring options, considering factors such as durability, lifespan, maintenance costs, and more. Our goal is to find cost-effective solutions that align with your budget while still meeting the high standards of quality and performance that your project demands.
3. Tailored Solutions
Whether you are working on a corporate office, retail space, healthcare facility, or any other commercial project, we offer a wide range of flooring solutions to cater to your specific needs. From stylish and durable luxury vinyl tile (LVT) to robust and eco-friendly carpet tiles, we have a diverse product catalog to choose from. Our team will work closely with you to ensure that the selected flooring material complements the overall design and functionality of your space.
Commercial Flooring Solutions for Builders, Contractors, and Architects in Winnipeg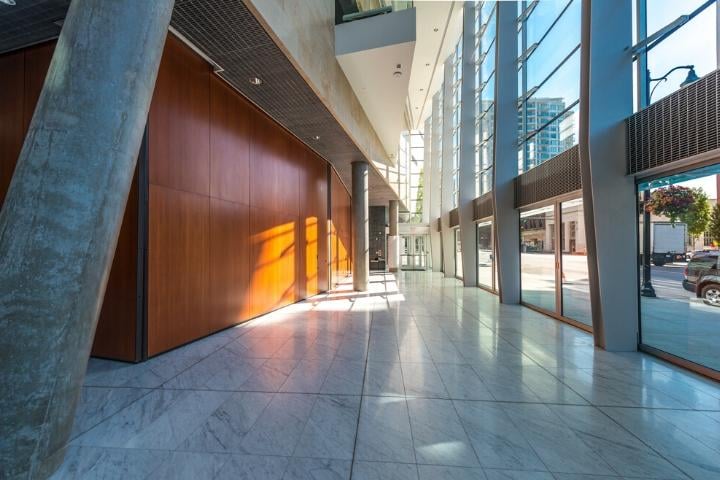 If you're a builder, contractor, or architect in Winnipeg searching for the perfect commercial flooring partner, you've come to the right place. BMD Materials is your local destination for top-tier commercial flooring solutions. Our expertise, commitment to quality, and dedication to value engineering make us the preferred choice for professionals in the construction and design industry.
When you choose BMD Materials, you are choosing:
Quality: Our flooring materials are sourced from reputable manufacturers, ensuring durability and longevity.

Expertise: Our team of experts has an in-depth understanding of commercial flooring trends and technologies, allowing us to provide you with cutting-edge solutions.

Affordability: We work diligently to find cost-effective solutions that align with your budgetary constraints.

Customization: Each project is unique, and we tailor our recommendations to meet your specific requirements.
Elevate your commercial space with BMD Materials, your trusted partner for commercial flooring solutions in Winnipeg, Manitoba. Contact us today to schedule a consultation and let us help you transform your vision into reality. Don't compromise on quality or budget; choose BMD Materials for all your commercial flooring needs.
Contact BMD Materials:
Address: 780 Bradford Street, Winnipeg Manitoba Canada
Phone: 204-800-4292
Email: info@bmdmaterials.com
Discover the perfect flooring solution for your commercial project with BMD Materials. Your success is our priority.