Window Coverings Market Continues to Grow

Nicole @ BMD Materials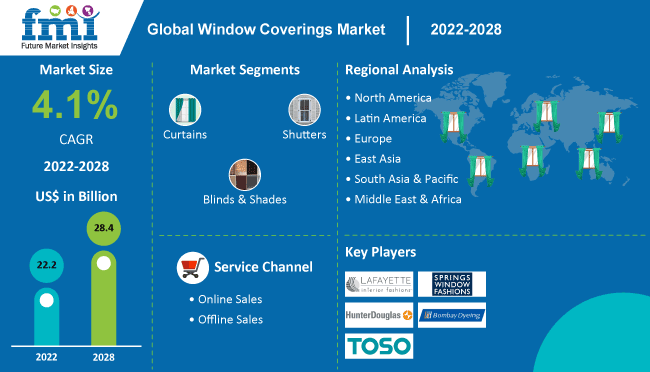 According to a report by Mordor Intelligence1, the global window coverings market is expected to grow at a CAGR of 4.42% from 2021 to 2026, driven by factors such as rapid urbanization, increasing demand for energy-efficient products, and rising popularity of smart home solutions. The report also states that blinds, shades, and shutters account for about 60.4% of the market share, followed by curtains.
Another report by Future Market Insights2 estimates that the global window coverings market size was valued at US$ 22.2 billion in 2022 and is projected to reach US$ 28.4 billion by 2028, registering a CAGR of 4.1%. The report attributes the growth to the rising demand for eco-friendly products, personalized wall décor, and prefabricated, modular, and manufactured homes.
According to Anything Research3, the U.S. window treatment stores industry had a revenue of $3.9 billion in 2020, with an average annual growth of 1.9% from 2016 to 2020. The industry employs about 25,000 people and consists of about 5,000 companies.
Based on these sources, it seems that the window coverings industry is growing steadily and has a significant market potential. However, I couldn't find any data on how often window coverings need repair or replacement. This might depend on various factors such as the type, quality, usage, and maintenance of the window coverings, as well as the environmental conditions and customer preferences.
If you require expert window covering advise in Winnipeg call BMD Materials. 204-800-4292